First Dexter® surgeries in urology carried out in Bern
June 24, 2022
Today we are announcing the successful completion of urological surgeries with Dexter® – the first and only on-demand robotic surgery platform. In a world-first, Dr. Dominik Böhlen carried out a series of urological procedures using our novel, Swiss-made surgical robot.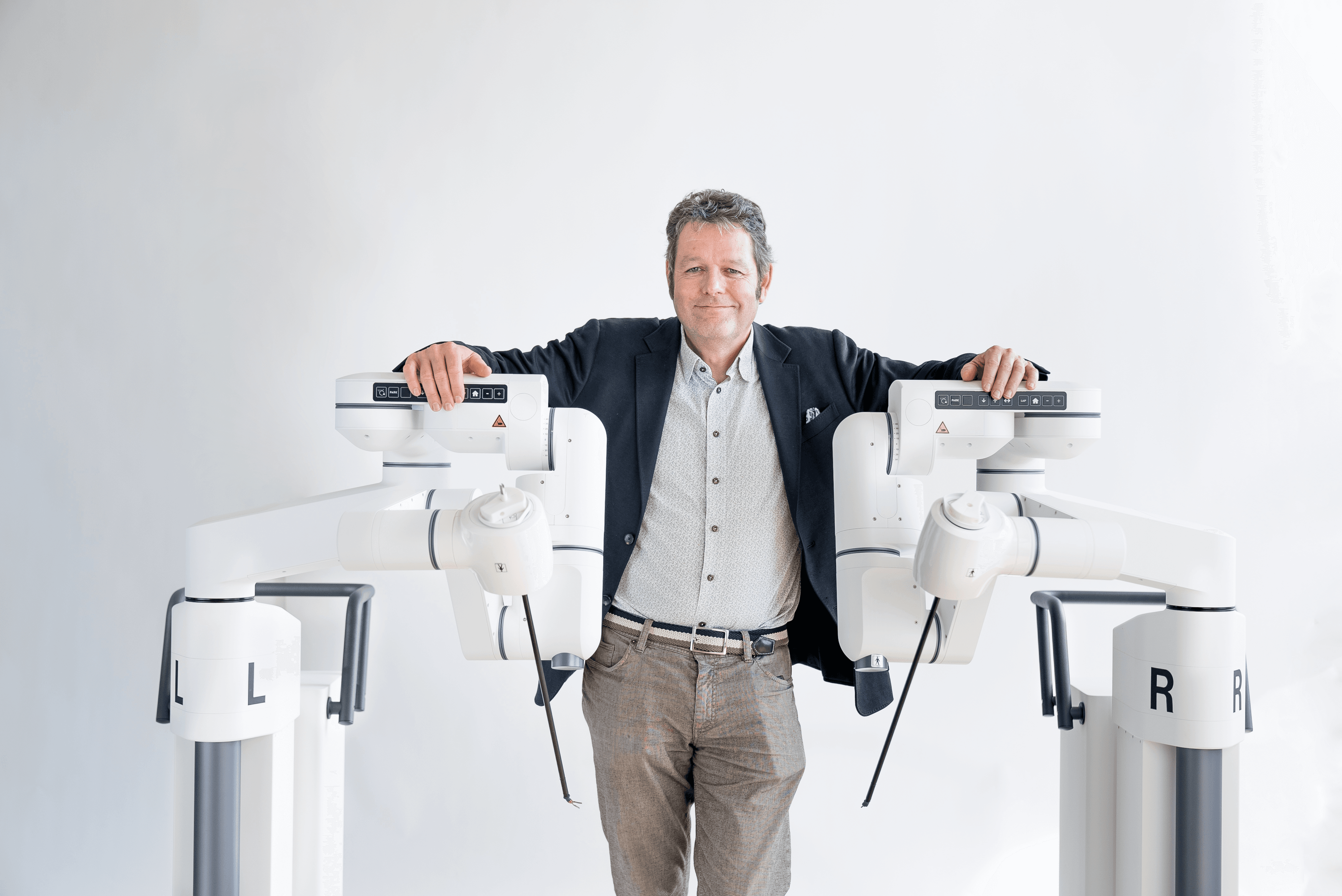 Dr. Böhlen and his team leveraged Dexter to assist them in the most difficult work steps during various surgical procedures. One procedure aimed to remove localized cancers (radical prostatectomy), another treated an enlarged prostate gland (Millin's prostatectomy). A radical prostatectomy entails the removal of the entire prostate gland and attached seminal vesicles. In a Millin's procedure only the part of the prostate that is obstructing the flow of urine is removed.
A Swiss robot to improve patient care worldwide
Dexter introduces a new approach to robotic surgery, a concept called on-demand robotics that empowers surgeons to choose freely between all available tools and techniques in the operating room (OR).
A surgical robot is particularly beneficial for work steps in strongly confined, hard to reach areas of the anatomy, where the highest precision and control of surgical instruments is required. However, the robot is not always the surgeon's best helper, sometimes other tools and techniques are preferable.
Yet, the traditional approach to robotic surgery tends to overextend the robot's remit, sometimes even making it the only tool available to the surgeon, displacing other established tools and forcing surgeons into either-or decisions between surgical techniques. On-demand robotics is different, providing access to robotics without limiting surgeons' freedom of choice.
In recent years, Dr. Böhlen accompanied Dexter's evolution closely. He was one of numerous European surgeons frequenting the Distalmotion labs, offices and test-centers to assess early prototypes.
"This is a promising milestone, showing that this robot can make a difference for patients and healthcare systems worldwide. The process and outcomes of my first surgeries with Dexter point to the benefits of on-demand robotics for surgeons, hospitals and patients." says Dr. Böhlen and explains "Dexter is easy to use and gives us an added sense of control and security in the OR. The system allows surgeons and OR teams to tailor their choice of tools and operating techniques to the patient and the procedure. That is a huge benefit, because every patient and every procedure is unique."
Dr. Böhlen adds: "Being able to switch modalities so quickly and easily is a distinct benefit – also in surgical training environments. I envision Dexter accelerating learning curves and improving dynamics between surgeons and surgeons-in-training. The added sense of flexibility and control that Dexter gives us opens new possibilities to empower young surgeons. Unlike traditional robotics solutions, Dexter does not get in his own way. The on-demand robotics approach with Dexter is user-friendly and affordable because it reduces the complexity of robotics and thus avoids usability challenges and economic pitfalls that have to date hindered the widespread adoption of traditional robotic surgery systems. Dexter is the first and only solution that has a chance to make robotics user-friendly and economically sustainable."
Our CEO Michael Friedrich asserts: "On-demand robotics is a new concept for minimally invasive surgery and Dexter is the corresponding robot – built with surgeons, for surgeons. We are thrilled to announce that Dexter has arrived in the OR for use in urologic surgery."

To meet Dexter: distalmotion.com/meetdexter/schedulemeeting/